When taking your sewing on the go, a sewing machine rolling tote will go miles toward making your mobile sewing set-up easier to transport.
Just as a rolling suitcase allows you to travel with ease, a sewing machine on wheels allows you to get your crafting appliance from Point A to Point B, stress-free.
When considering what type of rolling conveyance is best for your sewing machine, choose one that is well-designed not just for your machine, but for any accessories you may need to take with you. Extra room for needles, buttons, and the like helps you cut down on the number of additional carrying cases you'll have to tote around.
You'll want luggage that protects the machine, but is also durable enough to withstand wear and tear.
You might think that a rolling suitcase is a good option. This will likely be inadequate for a sewing machine, though, as most regular suitcases are designed for clothing and related items, and just don't provide the protection you need for your sewing machine.
Also, if you plan to take your sewing machine on the road regularly, you may find that traditional luggage doesn't hold up under frequent travel when it's stocked with an unwieldy appliance.
Our products are versatile and designed with tailors and seamstresses in mind. Our rolling sewing machine totes are stylish and have ample space not just for your sewing machine, but for all those little extras that go with your craft.
Our rolling sewing machine tote bags are durable and ideal for protecting your valuable sewing apparatus.

Top 5 Sewing Machine Rolling Tote
BlueFig TB19 Wheeled Sewing Machine Carrier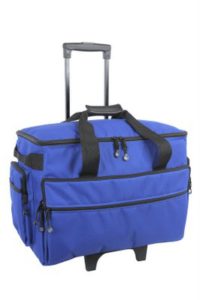 Get more information and buy from Amazon.com
Another customer-friendly option to consider is the BlueFig TB19 Wheeled Sewing Machine Carrier (Cobalt). This "sewing trolley" is fully collapsible for storage convenience. With six outer pockets and several inside pockets, this bag provides plenty of additional storage for extra sewing supplies.
It measures 19.25″ wide x 14″ high x 9.5″ deep. Made with a steel frame and the highest-grade polyester, this bag is designed for durability.
The Tutto Machine on Wheels Case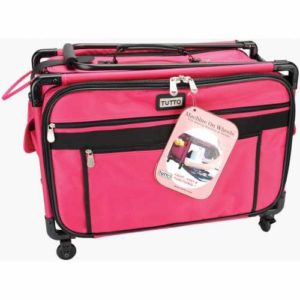 Get more information and buy from Amazon.com
The Tutto Machine on Wheels Case (21″ x 13 1/4″ x 12″, Pink) is lightweight and designed just for sewing machines and sergers. this rolling tote weighs in at just under 10 pounds, yet it holds up to 150 pounds and folds to a mere 3 inches for storage.
Ideal for travel, it comes with a label where you can write your name and contact information. Made of Ballistic Nylon, it boasts a sturdy frame and features a removable telescoping pull bar.
Mesh pockets conveniently contain your fabrics, while two inside straps secure your sewing machine.
Top and front openings provide easy access, and there is plenty of additional pocket space for all your other sewing must-haves.
BlueFig TB19 Sewing Machine Trolley (Black)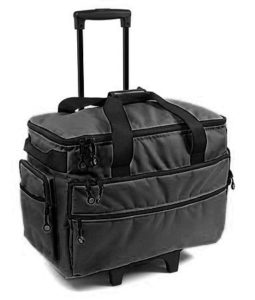 Get more information and buy from Amazon.com
The BlueFig TB19 Sewing Machine Trolley (Black) is certified "frustration-free" and is designed for durability and convenience. This behemoth on wheels is large enough to accommodate most sewing machines, even those with a cover. There will likely be room left over for that project-in-progress, too, which you can store in the inside mesh wall-pocket. As large as it is, it's fully collapsible for easy storage.
Crop In Style XXL Sewing Machine Rolling Tote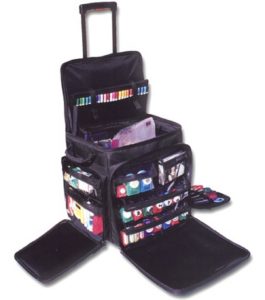 Get more information and buy from Amazon.com
If you're looking for a tote with accessory-specific storage compartments, look no further than the Crop In Style XXL Rolling Tote. Made with durable Cordura Nylon, this bag is sturdy. Designed with crafters in mind, it features 18 scissor loops and a 75-pen caddy.
This rolling conveyance promises improved visibility with clear compartments. Inside dividers can be adjusted or removed to suit your purposes.
The dimensions of this versatile tote measure 20″ wide x 20″ high x 16″ deep. In-line skate wheels with ball bearings allow this sewing machine on wheels to glide along smoothly.
Darice Rolling Tote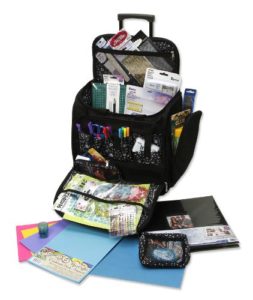 Get more information and buy from Amazon.com
The Darice Rolling Tote is a must-have for crafters. This black nylon bag features a collapsible handle for easy storage when not in use. Carry it or push it like a cart.
It is equipped with multiple zipper and Velcro pockets- one on each side, two in the front, and several inside- for organizing all your supplies.
Wheels roll easily, so this bag won't be difficult to maneuver, At 17″ wide x 17″ tall (38″ with the handle extended) x 10″ deep, you will have plenty of room for the tools of your trade.
Conclusion
Our impressive selection of rolling sewing machine totes features something for everyone. Whether you prefer simple styles or bold colors, a travel bag just for sewing or one that can be used for multiple purposes, we offer high-quality sewing machine rolling tote bags that consistently exceed customers' expectations.