After doing our research into Juki sewing machines, we decided that the Juki HZL-27Z Sewing Machine is their best model for meeting the demands of sewing projects and repair work. Here are the three best Juki sewing machines available on the market today.
They perform with accuracy, speed, and offer convenient features to keep the sewing moving along with fewer stops and starts. We listed these Juki sewing machines with their features and what we liked best about each of them.

The JUKI HZL-27Z Sewing Machine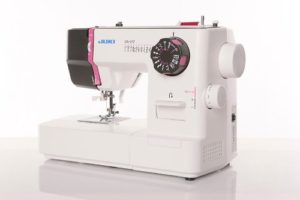 Get more information and buy from Amazon.com
The Juki HZL-27Z is small and lightweight when compared with standard sized sewing machines. It is very dependable for doing standard sewing projects. It offers quick set up out of the box. The smooth stitching is comparable with the work that larger sewing machines can do.
The Juki HZL-27Z makes accurate stitches, does it quickly, and is surprisingly powerful for its small size. Juki machines have a reputation for being quite hard workers and this one is just the same. It is more portable than other sewing machines and offers these features:
22 stitches
one buttonhole option
easily accessible stitch change dial
automatic needle threader
LED lighting over the work space
drop in bobbin
free arm
>>> Read more features at Amazon.com
The Juki TL-2010Q 1-Needle, Lockstitch, Portable Sewing Machine
Get more information and buy from Amazon.com
Designed for straight stitching, this sewing machine can handle slow speeds and thicker materials for those heavier projects. The Juki TL-2010Q allows for greater speed control and automatic needle threading which make the work move along quickly.
It is good for home decor projects as well as sewing repairs. With the die-cat construction comes a certain amount of weight. While this sewing machine is technically portable, place your sewing machine where you want it to stay.
The heavier design prevents excessive vibrations. It has accurate stitching that gets the job done. It features:
aluminum die-cast construction
automatic thread trimmer
large work space
maximum predetermined stop position with the needle
well-lit LED work space
>>> Read more features at Amazon.com
The JUKI TL-2000Qi Sewing Machine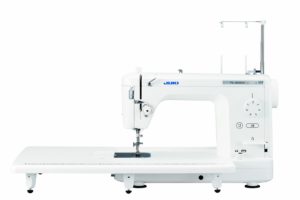 Get more information and buy from Amazon.com
The Juki TL-2000Qi is designed to not vibrate so that it doesn't interfere with the thread. It is a solid machine for quilting and home decor work and provides a large work space for bigger projects. It can stitch through multiple layers, including material like denim.
The weight of this machine pretty much encourages you to choose your sewing spot and set up your machine there. Here are the features of this hard working machine:
one pedal speed control
LED lighting
low vibration
automatic needle threader
quilting foot
large bed table for room to maneuver fabric
>>> Read more features at Amazon.com
The Bottom Line
In reviewing the Juki sewing machines that are available out there we had to study a variety of issues. These were such characteristics as model design, construction, price, versatility, and features.
The Juki HZL-27Z Sewing Machine conformed well to the demands of the average sewing project while allowing greater versatility and solid dependability. It offers many convenient features while still being able to stitch accurately.
A sewing machine can have a lot of bells and whistles on it, but it still needs to sew in practical ways. We also liked the added value of a lightweight machine that could be transported and yet still do hard work.
The Juki HZL-27Z Sewing Machine is a well-balanced machine. We highly recommend it for just about everyone from occasional crafters to serious tailors who work daily with their machine.
If you are not sure about Juki sewing machine, you can check other best sewing machine reviews we have in our site.