While there are an incredible number of sewing machines out there, we directed our research efforts toward finding the best sewing machines for jeans.
Denim is a highly versatile fabric, with many possibilities for hemming, stitching, and creative embellishment. We found the best sewing machine for jeans to be the Singer 4423 Heavy Duty Extra High Speed Sewing Machine.
Get more information and buy from Amazon.com
This top-of-the-line model lives up to its name, with an impressive speed of 1,100 stitches per minute, allowing you to achieve professional results more quickly than you would with slower models. Its durable metal frame promises skip-free sewing, even at high speeds. Smooth feeding of fabric through the machine is enhanced by a stainless steel bed plate.
Twenty-three built-in stitches include 6 essential, 12 decorative, 4 stretch, and one automatic buttonhole. Easily switch presser feet by simply snapping them on and off.
Drop feed allows for free-motion sewing. You'll find added convenience with the top drop-in bobbin system, designed for easy loading, and automatic needle threader.
>>> Read more features at Amazon.com
Brother ST371HD Sewing Machine for Jeans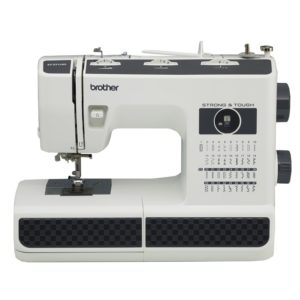 Get more information and buy from Amazon.com
Another durable, dependable model that's great for denim is the Brother ST371HD Sewing Machine. This versatile crafting equipment can handle of variety of fabrics of different thicknesses.
It's heavy duty enough for outdoor projects and working on several layers of thick fabric, yet sophisticated enough to professionally tailor delicate silks and other lightweight textiles.
The metal thread hook and heavyweight needles are designed for the toughest fabrics, even suede. Thirty-seven built-in stitches include zigzag, blind hem, decorative, stretch, and one automatic buttonholer.
Six presser feet can be easily switched for different fabric consistencies. The top drop-in bobbin and automatic needle threader help you set up your projects quickly and hassle-free.
>>> Read more features at Amazon.com
Janome HD1000 Sewing Machine for Denim
Get more information and buy from Amazon.com
Another efficient, powerful model can be found in the Janome HD1000 Heavy-Duty Sewing Machine. Fourteen built-in stitches include basic, stretch, and an easy-to-use buttonhole.
With its extremely durable cast-iron frame, this built-to-last machine allows for free-motion sewing and has a free arm for pant hems, cuffs, and collars.
The automatic needle-threader enables you to thread the machine without eyestrain. Accessories that come with this model include bobbins, extra needles, felt, presser feet, and more.
>>> Read more features at Amazon.com
Janome DC2014 Sewing Machine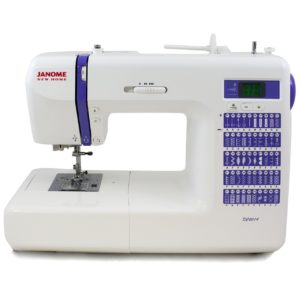 Get more information and buy from Amazon.com
If you want a more advanced sewing machine for jeans, the Janome DC2014 Computerized Sewing Machine may be a good fit. It comes with an automatic needle-threader, 50 built-in stitches, SFS (superior feed system), and 3 one-step buttonholes.
Additional features allow for adjustable speed control and reverse sewing for better stitches. You'll appreciate the added convenience of an automatic bobbin-winder.
Perfect for quilting, scrapbooking, and other handicrafts, your projects will be easy to complete with the auto-lock and memorized up-and-down needle position features. Free-arm conversion is also possible for cuffs and collars.
>>> Read more features at Amazon.com
Conclusion
Of all the crafting equipment on the market, we've narrowed it down to the best sewing machines for jeans. These models are especially designed for heavier fabric, such as denim. These tailoring and crafting appliances are durable and reliable. Purchase one of these superior-quality sewing machines for precise, professional results every time.