The best handheld sewing machines, which allow you to perform a variety of basic sewing tasks at home or when traveling, are known for fast stitching and versatility, as they can handle a variety of fabrics.
These models make it possible to do quick mending jobs with utmost convenience. You can make repairs to curtains without taking them down, sheets and blankets can be mended right on the bed, and clothing or costumes can be stitched up without taking them off.
Because they're ideal for sewing essentials, and not complicated to operate, handheld devices are especially suitable for kids and beginners. We know how important it is to learn all you can about the different models before making a purchase. We've done all the research so you don't have to.
5 Best Handheld Sewing Machine
EIALA Professional Cordless Handheld Sewing Machine
Get more information and buy from Amazon.com
When it comes to versatility and ease of use, the best model is the EIALA Professional Cordless Handheld Sewing Machine. This battery-powered tool helps you accomplish everyday sewing projects, anytime, anywhere.
Ideal for home use or crafting on the go, it's great for stitching a variety of fabric- denim, silk, wool, and leather, and will prove invaluable for simple arts and crafts. It's especially helpful to use when sewing curtains, wall hangings, and the like.
Crafting practical clothing items, such as gloves, handkerchiefs, or aprons, is easy with this small yet powerful machine. You'll need 4 AA batteries to run it and, although they're not included in the package, it does come with extra needles and thread.
Machine operation is simple and allows for fast stitching, so you'll complete your projects quickly.
>>> Read more features at Amazon.com
Singer Stitch Sew Quick Hand Sewing Machine
Get more information and buy from Amazon.com
The Singer Stitch Sew Quick is especially helpful for on-the-spot mending because it's portable and compact. It works with a variety of fabrics, so you can conveniently make repairs to drapes, bedding, and clothing.
This machine comes with many of the accessories you need to get started- a spindle, a needle-threader, 3 needles, and 4 pre-threaded bobbins.
This Singer handheld sewing machine requires 4 AA batteries and a power adapter, which need to be purchased separately.
>>> Read more features at Amazon.com
Handheld Sewing Machine – Mini Portable Handy Electric Household Quick Stitch Tool
Get more information and buy from Amazon.com
Another lightweight, compact, yet powerful model is the Handheld Sewing Machine Mini Portable Handy Electric Household Quick Stitch Tool for
basic sewing
projects. It comes with needles, a spindle, bobbins, and a needle-threader, so you can get started as soon as it's out of the box.
This model is also great for clothing repairs and small DIY projects, such as handkerchiefs, aprons, gloves, and wall hangings. It can handle seam thicknesses of up to 1.8 mm.
Like other handheld models, it can be used on a variety of fabrics, such as denim, silk, wool, and even leather. It requires 4 AA batteries, which you'll need to purchase separately.
>>> Read more features at Amazon.com
Handy Stitch Handheld Sewing Machine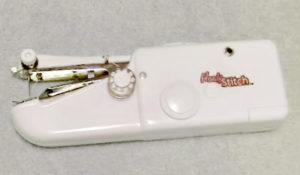 Get more information and buy from Amazon.com
If you're looking for a compact crafting tool that has the power of larger models, the Handy Stitch Handheld Sewing Machine (as seen on TV) may be just what you need.
You can use it for sewing jobs that just aren't possible with desktop models, such as mending curtains on the rod or stitching torn clothing while it's being worn.
Accessories to help you launch your projects- 3 sewing needles, 4 steel bobbins, a needle-threader, and an extra spool pin for regular size thread- are included in the box.
As with other models, you'll need to purchase 4 AA batteries to operate it.
>>> Read more features at Amazon.com
Oxford Professional Handheld Sewing Machine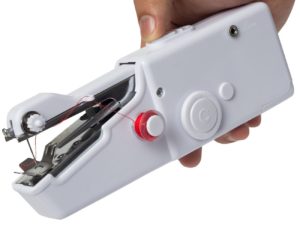 Get more information and buy from Amazon.com
The Oxford Professional Handheld Sewing Machine is another powerful, portable model for quick-fix projects.
This battery-operated cordless tool is great for home or travel use. It can be utilized with virtually any fabric and works especially well with cotton, silk, denim, nylon, and polyester.
This versatile product gets the job done, whether you're mending clothing or curtains, or embellishing creative crafts. When you purchase this user-friendly item, you'll also get 3 bobbins, 2 extra needles, a spindle, and a needle threader.
>>> Read more features at Amazon.com
W-Dragon Handheld Sewing Machine
Regardless of whether you're a novice sewer or a professional, you'll find this little machine a breeze to operate. Small, portable and suitable for use on a variety of fabrics (including silks, denim, wool, and leather), it makes light work of any DIY project you turn your hand too.
The compact, lightweight design makes it ideal for traveling (simply pop it in your purse and you're good to go), while the simple operation and automatic movement provides a quick-fix solution to all your emergency hemming and repair needs.Regardless of whether you're home or away, have this by your side and you'll never need to worry about a dropped hem or torn pocket again.
On the flip-side, the machine is designed for fabrics of 1.8mm thickness only – while this shouldn't be a problem for most types of attire, you may need to consider an alternative model if you're working with a particularly flimsy or thick material type. As it's a single thread machine, you'll also need to tie a knot by yourself.
although given the multiple practical uses of the device, we're sure you won't hold this last one against it too much!
APlus+ Portable Sewing Machine
If you're looking for an easy-to-use, entry-level sewing machine, this makes an excellent choice. The miniature, lightweight design makes transportation effortless – simply pop it in your bag or the glove compartment of your car for a fast solution to on-the-go repairs.
The operation of the device is simple enough for even kids to master, making it a great choice for little ones eager to take their crafting to the next level. The sewing machine comes pre-threaded and ready to use, and thanks to its tiny size and maneuverable design, it can be used to make precise repairs and alterations in the kind of awkward spots conventional sewing machines aren't equipped to handle.
Just a few little niggles to consider- firstly, neither the batteries nor power adaptor are included in the purchase price, so you'll need to buy these separately. Secondly, while the machine handles most fabric types without worry, it takes issue with any material thicker or thinner than 1.88mm- not a problem for most projects, but something to bear in mind if you plan on using it on bulky materials.
Humutan Handheld Sewing Machine
Compact, lightweight and easy to use, this handy machine offers a fast, practical way of repairing hems and mending torn pockets. Thanks to its small size and maneuverable nature, you can even use it to adjust a dropped hem without having to take your clothes off beforehand.
As well as offering a quick solution to emergency repairs, it's also a great little tool for crafting, patchwork, and even a spot of embroidery. Other than its practicality and multiple uses, the machine's chief benefit is its time-saving qualities. Forget about laboring for hours over a needle and thread – this pocket-sized device will do the job in minutes. Set-up is just as quick as the sewing itself, requiring little in the way of technological know-how to get up and running.
Despite the perks, there are a few things to bear in mind before you add it to your shopping cart. Although it's designed for a variety of uses, it's primarily a machine for small jobs – if you intend on using it for large projects that require a lot of sewing, you may find it overheats.
It's also best kept to projects where the quality of sewing isn't a deal-breaker. The machine has one setting (fast), making it less than ideal for projects where a greater level of precision may be required.
DUTISON Portable Sewing Machine
If you're in the market for a sewing machine that's small enough to be popped in your bag, simple enough for even novices to operate, and suitable for both DIY projects and emergency repairs, this time-saving little device could well be the solution to your needs. Before we look too much at the benefits, a few little caveats to consider.
Firstly, this isn't designed for major projects. If it's fast, easy sewing you want, it's perfect. If it's a heavy-duty machine capable of running for hours at an end and handling thick, bulky material, you're probably better off looking elsewhere. You'll also need to be aware that while the machine comes with an instruction manual, long-stick, threader, 2 sewing needles, 9 bobbins, a pair of scissors and a measuring tape, the required 4 x AA batteries and DC 6V Power Adapter will need to be purchased separately.
But enough of the downsides. for simple repairs, hemming curtains, and DIY crafts, the simple functionality, fast action, and sublimely easy operation are a dream. Best of all, it can be used on a wide array of fabrics without issue.
Jeteven Handheld Sewing Machine
For small jobs on the go, this handheld, portable sewing machine is a joy. As well as coming pre-threaded and ready for use (save for the 4 x AA batteries you'll need to purchase separately and pop in yourself), it's accompanied by everything you need to get started: bobbins, safety pins, sewing thread, sewing needles, a threader, and even a pair of scissors and measuring tape.
Granted, it's not the ideal choice for the kind of intricate project where quality control and precision are paramount, but for fast repairs, easy hemming, and light crafts, it's hard to pick a fault (although if we had to, we'd probably say its inability to backstitch (and subsequent need for you to tie a knot) would be it).
Other than its simplicity of use and tiny size, some other nice little features to mention include the handy safety feature (no more nicked fingers!), affordable price, and maneuverable design (for repairs on the go, you'd don't even need to remove the clothes first. Simply hold the machine in one hand, the fabric in the other, and off you go).
Conclusion
Handheld sewing machines aren't all created equal, but these models are powerful and efficient, especially considering their small size.
They can accomplish tasks that larger, more advanced models can't. They're certainly superior to the tedium and often less-than perfect results usually achieved by hand-sewing.
Transform your basic sewing projects with one of these versatile, compact, easy-to-use tools.
If you are not sure about hand sewing machine, then you can check other best sewing machines reviews at our website.