After conducting considerable research, we've discovered what we believe are the best embroidery machines for beginners. Our top choice is the Brother SE400 Combination Computerized Sewing and 4×4 Embroidery Machine.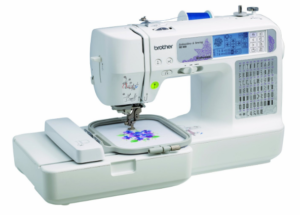 Get more information and buy from Amazon.com
Whether you're
sewing
,
quilting
, or
embroidering
, you can create just about anything with comprehensive sewing functions and 4″x4″ embroidering capability. With the high-visibility touch screen LCD display, you have access to 67 one-of-a-kind stitches, 98 stitch functions, 120 frame combinations, and 70 built-in embroidery designs.
Customize your creations even more and give them a high-end look with five distinct lettering fonts. Machine features will be easy to learn for beginners, but have enough options for you to expand your craft for years to come.
Computer connectivity allows you to keep your machine up-to-date and add to your repertoire of embroidery designs as you import them from iBroidery.com (Brother's webpage for downloading) and related sites. Cutting top and bottom threads has never been easier with the one-touch automatic thread cutter.
Additional courtesy features, such as a bilingual user manual and free phone support for the life of the machine, are especially helpful for new crafters.
>>> Read more features at Amazon.com
Brother LB6800PRW Sewing and Embroidery Machine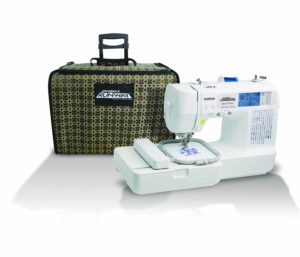 Get more information and buy from Amazon.com
Another high-quality option, according to customer reviews, is the Brother LB6800PRW Project Runway Computerized Embroidery and Sewing Machine with 4″x4″ embroidery capacity. View all of your stitching options on the back-lit touch screen with LCD display.
You can access 67 built-in stitches and 70 designs. Five lettering fonts and 120 frame combinations give you additional styling options.
Computer connectivity and USB cable allow you to import designs from other sites. Helpful accessories include seven specialty sewing feet and a designer rolling bag when you want to take your embroidery on the go.
Brother PE500 Embroidery Machine
Get more information and buy from Amazon.com
Designed just for beginning embroiderers, the Brother PE500 Embroidery Machine comes with a helpful starter kit. It includes a variety of accessories, so you're ready to embroider as soon as the machine is out of the box.
The easy-to-view LCD touch screen allows you to access 70 designs, 5 lettering fonts, and 120 frame combinations, as well as view tutorials. Computer connectivity and USB cable allow you to download additional designs.
Singer Futura XL-400 – Best Beginner Embroidery Machine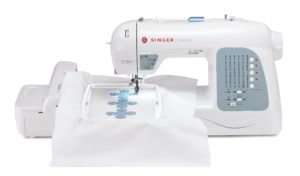 Get more information and buy from Amazon.com
For larger-scale
monogramming
and embroidering, the Singer Futura XL-400
computerized embroidery machine
has 18.5″x11″ multihoop (including 2 hoops) capability.
This model includes software to help you create and edit designs on your PC, then transfer them to the embroidery machine using the included USB cable. The 10″x6″ hoop has multi hooping capability.
In addition, you have access to 125 built-in designs, five fonts, and outline lettering.
Embellish your projects with 30 automatic stitches, and two one-step buttonholes. Setting up your sewing projects is a snap with the Swift Smart threading system and Drop and Sew bobbin.
This embroidery machine for beginners simplifies larger design stitching, which is more complicated with a smaller field.
>>> Read more features at Amazon.com
Brother PE770 Embroidery Machine for Beginners
Get more information and buy from Amazon.com
The Brother PE770 5×7 inch Embroidery Machine also allows for more expansive designs with its 5″x7″ field that accommodates larger designs and letters with less re-hooping.
You can easily view and edit your designs on the back-lit LCD screen before beginning to sew. Creative possibilities are virtually limitless with 136 built-in designs and six lettering fonts.
The impressive range of design options includes floral images, quilt patterns, and elegant scroll work.
Accentuate your designs with 10 frame shapes and 12 border styles. Store your original designs with built-in memory, which you can also use to store imported patterns. Rotate, enlarge, or minimize your designs with a wide range of editing options.
When you're ready to start sewing, you'll be able to effectively launch your projects with easy top and bottom threaders and an automatic thread cutter.
>>> Read more features at Amazon.com
Conclusion
As a new embroiderer, it may be difficult to know which model of embroidery machine for beginners will be right for you.
However, choosing one of these models will give you all the essentials you need to get started, plus additional options to explore as you become more experienced. These crafting appliances will make embroidery fun and easy.
Customers consistently give them the highest ratings, so you know you're selecting from among the best. Set up your craft room with one of these user-friendly models and you'll be impressed by how you can achieve professional results.
If you are not sure about a beginner embroidery machine, you can check other best embroidery and sewing machine reviews we have in our site.