The importance of having a high-quality sewing machine carrying case to protect and transport your sewing machine shouldn't be overlooked. Covering the machine keeps it out of the reach of small hands that might damage its delicate mechanisms.
Carrying cases allow you to store the machine so that it won't become covered by dust and clutter when it's not in use. It makes sense to protect your investment to keep it in good working order for as long as possible.
It's also less cumbersome to handle if it's contained in a well-designed storage compartment.
You don't want to put your crafting equipment in just any kind of container or a carrying case that isn't durably designed for long-term use.
Some products may not fit certain sewing machine models. Others aren't durable enough to stand the test of time.
You'll want a case or bag that is designed specifically for sewing machines, provides adequate protection, and won't need to be replaced often because it doesn't stand up to wear and tear.
Our products are ideal for most sewing machines. Designed for convenient storage and ease in portability, they offer the best protection for your valuable crafting appliance and are meant to last. Some of our products come with straps in addition to handles, so you have more carrying options.
Select items also have extra pocket space to keep your sewing supplies organized and within easy reach. Some of our items also have additional color and style features, so you can choose one that fits your design preferences and personality.
Brother Universal Sewing Machine Carrying Case
Get more information and buy from Amazon.com
Another storage option that fits any free arm model and most sergers is the
Brother 5300 Universal Sewing Machine Carrying Case
. This two-piece storage and carrying case is made of plastic that is durable yet lightweight, designed to resist damage.
Locking metal side hinges allow you to securely store your machine.
Its surface is designed not to attract excess dust, so it stays cleaner, longer. This storage option also comes with a built-in handle.
Singer Sewing Machine Carrying Case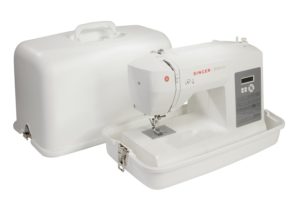 Get more information and buy from Amazon.com
The Singer 611.BR sewing machine carrying case is suitable for most free arm sewing machines, offering protection from dust and other debris. At less than five pounds, it is lightweight, impact-resistant, and can carry virtually any model of sewing machine or serger.
Safety latches provide extra security. Its handle is sturdy, comfortable, and collapsible to allow for easy stacking. This sewing machine case comes with a latch that's easy to open, so getting your machine in and out won't be a hassle.
The dimensions of the Singer 611. BR carrying case measure 19.8″ x 15.9″ x 11.3″.
Singer Universal Sewing Machine Tote
Get more information and buy from Amazon.com
If you're looking for a flexible, highly-portable option, the Singer Universal
Sewing Machine Tote
may be just what you need. This bag, with an especially durable base and dimensions of 18″ long by 10″ wide by 13″ high, can easily accommodate most sewing machines.
Convenient carry handles and exterior straps designed with hook and lock clasps provide added convenience when carrying your sewing appliance. Your machine or serger will be well-protected between padded side-walls.
Keep sewing accessories organized and easily at hand in the exterior zip pocket.
Janome Red Sewing Machine Tote
Get more information and buy from Amazon.com
For a simple storage solution, consider the Janome Red Sewing Machine Tote. Designed for most standard-sized sewing machines, the full zipper opening makes packing and unpacking a snap. There is plenty of additional storage space for your sewing accessories in the front pocket. This bag measures 17″ wide x 12.5″ tall x 8″ deep. The front pocket measures 14″ wide x 8″ tall x 2″ deep.
Hemline Blue Floral Sewing Machine Tote Bag
Get more information and buy from Amazon.com
Carry your sewing machine in style with the Hemline Blue Floral Sewing Machine Tote Bag. Popular among quilters and sewing and embroidery enthusiasts alike, this carrying case weighs in at less than two pounds.
Inside storage dimensions measure 16″ wide by 8″ deep by 14″ high. Store your accessories in this tote's roomy, lined, padded double pocket. Comfort-grip handles and heavy-duty straps provide convenient carrying options.
Durable zippers make for easy packing and unpacking. Part of the Sew Easy Collection, this handy tote is made of real woven, stain-resistant fabric.
Conclusion
When it comes to storing and transporting your sewing machine, consider choosing from our diverse, superior-quality selection of carrying cases.
Consistently rated among the best according to customer reviews, our products are designed with the consumer in mind. For durable long-lasting protection, look no further than our quality selection of sewing machine carrying cases.