Sewing machines are great for a variety of people, no matter if they enjoy being self-reliant or simply enjoy it as a hobby. The Brother SC9500 sewing machine serves as a good choice for people on both sides of that aisle, offering both technological and practical quality-of-life features that have endeared it to numerous customers thus far.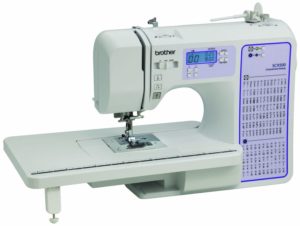 Get more information and buy from Amazon.com
Technology Makes The Difference
For those of you who consider themselves technophiles, sewing machines like the Brother SC9500 are up your alley.
Its computerized nature is one of the things that pops out most to a lot of people, and depending on how easily you can acclimate yourself to new technology, it can either be a cakewalk or a bit of a nuisance.If you can decipher the manual however, it should not be much of a problem.
The computerization allows you to access to a variety of customization options, such as convenient selection of stitching selection that helps streamline the work.
Solid Build for Solid Sewing
Outside of the tech stuff, customers enjoy an overall high quality of build. It has a particularly wide table, which allows users the ability to not only work on larger and more elaborate projects, but also contributes to creating an easier, more entertaining sewing experience (without being a lesser experience for smaller and/or simpler projects).
Features of Brother SC9500 Sewing Machine
A technophile's dream – backlit LCD screen, LED lighting for easier work, and computerized stitch selection
Comes with automatic needle threading, a drop feed for free-motion quilting, and more
Quilters rejoice – the Brother SC9500 features a wide table on which you may work on your quilts
Features 7mm zigzag and decorative stitches as well as one-step buttonhole styles
Solid monogramming variety thanks to its 55 alphabet stitching options and font
Customer Reviews – The Positive and The Negative
As of July 27, 2016, the Brother SC9500 Computerized Sewing & Quilting Machine has an average of a 4.4 out of 5 on Amazon.com from a total of 24 customer reviews.
A solid majority of reviews are very positive – about 75% of reviewers rated it a 4 or higher, praising it for its ease of use and tech. On the other hand, there are obviously a fair few less-than-positive reviews; 12% of reviewers gave it a 3, and 13% gave it a 1.
Speaking of the negative reviews, it cannot be denied that there is a legitimate reason why these customers were not able to rate it more highly.
Some reviewers have cited general issues with the machine, such as one review – it specifically notes that it is not recommended that users of the Brother SC9500 Computerized Sewing & Quilting Machine not use it for fleece or fur, as it could damage them and possibly cause the machine to jam; however, the reviewer notes that it is otherwise a quality machine, particularly ease of use, relative silence of the machinery, and its font quality.
More critical reviewers note more serious issues, such as flimsy design. These seem to be the exception rather than the rule, as most reviews note that the build quality is fairly decent.
>>> Read more features at Amazon.com
In conclusion
Overall, this sewing machine is not perfect – but just like anything, perfection is something one should not expect.
While there are some aspects of the machine that could be improved, it is ultimately quite the quality machine that hits many a button for hobbyists and crafters.
It is inevitable that this machine may need to be replaced in the future, but odds are, this will be doing well for you and your work for a long time yet.
If you are not confirming about brother sc9500 free-arm sewing machine, then you can check other top sewing machine review at our website.