Brother 5300 Universal Sewing Machine Carrying Case Review
So you've just purchased your Brother sewing machine. You've spent a great deal of time setting it up and working with it so it sews just the way you want it to.
But what are you going to do if your machine ever needs repairs? What if you're going on vacation or relocating and need to safely transport your machine? Or what if you don't plan on using your machine for a few weeks and want to ensure dust and other contaminants stay out of it?
At times like these, you need a sturdy carrying case that will both protect your machine from getting dirty and allow you to easily transport it from place to place. The Brother 5300 Universal Sewing Machine Carrying Case is a fantastic way to both protect and transport your Brother sewing machine wherever you need to take it.
It is a sturdy yet lightweight case that will fit most of Brother's free-arm sewing machines and sergers, providing both easy transport and great protection.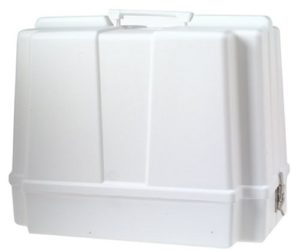 >>> Get more information and buy from Amazon.com
Lightweight, Two Part Case Keeps Your Precious Cargo Safe
If you've ever lifted a sewing machine by itself before, you know they can be heavy! So there's no need to have a heavy carrying case adding weight to your machine as well.
The Brother 5300 Universal Sewing Machine Carrying Case is made out of a lightweight yet durable hard plastic, which will help protect your machine against those rough bumps that can cause damage.
In addition, the case also snugly fits over your machine to keep out anything that doesn't belong in it, such as dust, lint, animal fur, or moisture.
Hinged Metal Locks Help Keep Your Machine Secure
A major problem people often have with sewing machine cases is when the hinges break. The hinges keep the case securely attached to the machine, so when they break they are no longer protecting your machine.
The Brother 5300 Universal Sewing Machine Carrying Case features sturdy metal locks that will keep your machine protected.
Other Great Features of 5300 Universal Sewing Machine Case:
A built-in handle for easy transport
High molded base for added protection
Made in the U.S.A.
Measures 17 x 11.5 x 14 inches
The Brother 5300 Universal Sewing Machine Carrying Case is a simple hard plastic case that will nonetheless provide unparalleled protection for your Brother free-arm sewing machine or serger.
It's designed with both protection and transport in mind, and will not add undue weight to your machine during transport.
>>> Read more features at Amazon.com
Customer Reviews and Scores
There are currently over 1,600 customer reviews so far. The reviews are generally positive, with customers citing the carrying case's light weight, durable construction, and high base as positives.
A number of the negative reviews state the carrying case is actually too large for several models of Brother sewing machines. One user's negative review states in part 'The machine has about two inches of free space on all four sides which means the machine will bang around inside the case if you try to carry it.'
A number of reviews share this concern about the carrying case size as it compares to the machine size. Another customer review states 'This case is ugly and very cheap looking.
It is also way too big for my standard sewing machine. My machine knocks around inside of it, defeating the purpose of a protective case.'
According to other customer reviews, the size issues can be remedied by saving the Styrofoam inserts from the sewing machine box and packing them around the machine prior to putting the case on.
More positive customer reviews state 'I like them because they are indeed larger and have extra 'nooks' for putting the extra accessories, foot pedal, manuals, extra books, material and sometimes a small sewing kit for when I take it to class.';
'The sewing machine fits fine in this case and overall happy with it. It has room to spare for accessories.' and 'This is great if you take the case to class with you, or if you want to store your current project with your sewing machine.'
These statements make it very easy to recommend the Brother 5300 Universal Sewing Machine Carrying Case to sewers of any experience level who need to protect or transport their machines.
Conclusion
In summary, the Brother 5300 Universal Sewing Machine Carrying Case is a deceptively simple-looking carrying case that will keep your Brother sewing machines and sergers protected.
With its durable plastic outside and high base, it will keep your machine from being damaged while traveling, and can protect it from moisture, dust, and other harmful contaminants in the environment.
The metal hinges lock securely, making sure your machine will always be secure inside. With the addition of additional padding if needed, you will find this a sturdy case that you can take with you anywhere you need to transport your machine.